The exhibition of Crafts in Florence takes place in Florence "Artigianato e Palazzo"is in the heart of the city in the enchanting garden of the historic Corsini palace. Corsini Garden is located in via Della Scala, number 115 near the convent of Santa Maria Novella. I immediately fell in love with the atmosphere of the most beautiful garden in the whole city, done in typical Italian classic style and created by Gherardo Silvani for the Corsini family in the year 1620. The best artists chosen in Italy and abroad by the Cultural Association Giardino Corsini perform among citrus plants, birds singing numerous turtles in the ideal atmosphere for an artist.
In 2020 "Artigianato e Palazzo" presents the 26th edition takes place from 4 to 7 June. It is an exhibition that transmits love for one's own hand-made work, which gives us authentic pieces.
How the event started.
For the first time the exhibition was presented in 1995. The idea came to Neri Torrigiani's mind and thanks to the support of Princess Giorgiana Corsini (the godmother of the event), this was born
beautiful event. They carry on this tradition every year, renewing it and making it more and more extraordinary.
Over time, this exhibition becomes more and more beautiful, better known and more important all over the world. In fact, nowadays"Artigianato e Palazzo", besides being a craftsmen's fair, is a modern and trendy cultural event. Let's see why: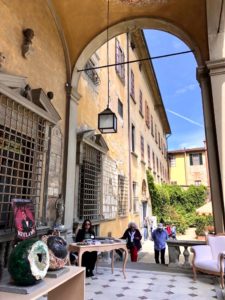 enhances hand-made work and in this way helps to preserve the ancient crafts.
has an important role in the development of tourism. Funds are raised every year in favor of the Florentine cultural heritage.
supports the new generations by combining artists with the modernity of communication such as that of social bloggers.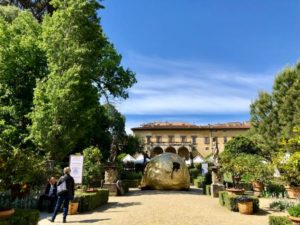 The exhibition "Artigianato e Palazzo "in Florence – extraordinary event.
It is a unique event of its kind. I recommend it a little to everyone. It's nice to spend time in the middle of nature and art. It is so wonderful to observe young artists as they create with their own hands. You can also stop to eat something among the lemon trees in the garden. Every afternoon, instead, a gastronomic appointment "Family recipes" where you can discover some delicious recipes and attention to all the greedy, they also make the tastings.