Discovering Tuscany. In this article I would like to share the interview that made me by Rolling Panda for his readers who decide to choose Tuscany for the trip. Here is an interview ¨ Tales in your suitcase: Discovering the splendid Tuscany¨
I would like to add that for me it was a huge pleasure to be chosen to talk about our Tuscany region.
It is about my traveling experience, my preferences in Tuscany and in general some advice.
Discovering Tuscany. Questions and answers .
Here are the questions:
Something about me and how my blog IO and TUSCANY is born.
What a region like Tuscany can offer.
What goals and experiences I recommend doing at least once in your life in Tuscany.
I recommend an itinerary to discover this region.
1. Tell me something about you and how your blog is born.
The idea was born from the many questions that I ask myself every day. I work in tourism, I love traveling and taking pictures, so I thought, why not combine my passions and knowledge in one thing ?!
I believe that each of us deserves a holiday and to pass it well we need simple practical and feasible advice, that's exactly what I try to convey.
2. Often Italy is underestimated as a destination, what can a region like Tuscany offer us?
True, Italy is often underestimated as a destination. I know something about it. Of Ukrainian origins I have been living in Italy since 2006, so the territory I had to discover exploring in my small journeys with tourist eyes. Often there is no information about the places that surround us, so tourists who travel "do it yourself" lose a lot of interesting things.
I consider myself an absolutely lucky person, because I live in Tuscany. When asked what you can offer Tuscany, I would say everything. Here we have the sea, a few kilometers also the mountains, so the picturesque landscapes are guaranteed. Food and wine is the second reason why to choose Tuscany. In the region, especially in Versilia, there are the best and most sought-after restaurants. And of course there is no lack of adventure, sport, art and great service.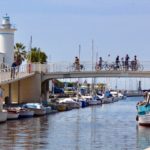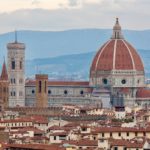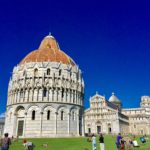 3. Which destinations and experiences do you suggest to do at least once in your life in Tuscany?
My favorite city is Florence so don't miss it. On the coast I would choose Versilia, besides being beautiful, let's say it satisfies every type of tourist. And while we're in Versilia, visit Pietrasanta is a little gem.
I also like medieval cities like Siena and Volterra. And those who love wine like me, then Bolgheri and San Gimignano. However, there are also many others.
4. Recommend an itinerary to discover this region.
Since my blog talks about Tuscany and Versilia, we do this starting from Versilia.
First of all the location is convenient for getting around the area, well connected by trains and close to the airport.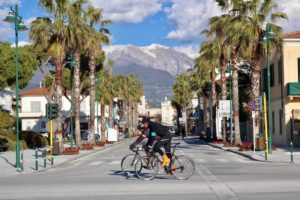 I'd go for a day in Florence, it's the least to devote to this wonderful city.
Half a day to Pisa and Lucca. An afternoon in Bolgheri for a nice wine tasting.
Good fish in Viareggio or Forte dei marmi. And the meat and art in Pietrasanta.
A bit of relaxation, I recommend the sea and for sports cycling or trekking.